Friday the 13th Chaos Draft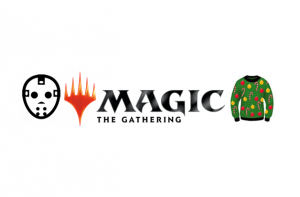 Friday the 13th
Holiday Chaos Draft
@ 5:30pm
 Entry:
Buy ANY 3 booster packs + $3.50 event fee.
Ugly Sweater and/or Jason Mask Deal:
Wear an ugly sweater or Jason Voorhees mask to the event and
we'll wave the $3.50 event fee & put you into a special drawing!!
PRIZES
-1st place wins a limited edition play mat!
-Top 4 win store credit!
-Promo pack drawing each round
-Ugly Sweater/Voorhees Mask special drawing pool:
sleeves, promo materials, foils & much more!! 
FREE HOT COCOA & COOKIES!