Kamigawa Casual Prerelease
EVENT CODE:
P54JEX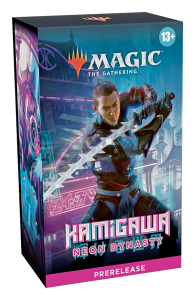 EVENT TYPE: *CASUAL Prerelease:*
Focused on learning new cards and celebrating a new set or special format.*
*These events have lighter prizing and are less competitive.*
*Great for beginners or players looking for a more casual setting.*
STRUCTURE: Open Play–(Play with your friends and make new friends without a timer or rounds)
TIME: 3:00pm to 6:00pm
ENTRY FEE: $29.99
RESERVE A SEAT: Here
EVENT CODE:  P54JEX
SEATING: Limited Quantities. Prepay in-store to guarantee seating and kits
PRIZES:
~Play 1 game against any player & get 1 booster!
~Play against 4 different players & win a 2nd booster!
*CASUAL EVENTS:*
*Focused on learning new cards and celebrating a new set or special format.*
*These events have lighter prizing and are less competitive.*
*Great for beginners or players looking for a more casual setting.*
RESERVE A SEAT: Here