WARHAMMER 40K: MAJOR LEAGUES
Warhammer 40k MAJOR Leagues Packet:
~Major Leagues is designed for experienced players looking for a challenge and/or players looking to practice for high level play like GW Opens & ITC Events.
~Major League will have an open play period that will culminate to a play-off bracket in August 2022
The purpose of this packet is to create a standardized rule set for league play using the current edition and evolving rules of the 40k game. This is to provide a clear understanding of what you can expect when you play at Muse Comics & Games, and the way that the league will be organized and structured.  Our mission as organizers is to encourage players to have FUN, centered in the Warhammer 40k hobby.
Each player will need to provide a copy of their army lists (Point cost of models and upgrades included) as well as all the essentials they need to run their army, dice, templates, measuring tape, the appropriate FAQ, etc.  We suggest exporting txt-based lists (battlescribe, ect.) to your opponent. Players are expected to know their army well enough that they can find rules & list specifics in GW print should your moves, plays, special abilities or point values be questioned.
OPEN PLAY MAJOR LEAGUES: (May 16 thru July)
~Open play league means games can be played at any time in-store or at home during the open play period of the season!!
~Games just have to be reported to us in-store, over the phone, or email.
9th edition rules will be used. If new codex or supplements/FAQ release during the open play or Play-off of the league the newest rules will be used.
Y.S.I.W.Y.G. Player's armies and miniatures must be modeled to include any upgrade equipment and/or weaponry that the figure has paid to use in the game. Examples:  Power weapons, heavy and medium weapons like Lascannons and melta-guns, vehicle weapons like Hunter Killer-Missiles, etc.  If it cost points it should be represented on the model.  Vehicles must be fully modeled to display all its upgraded weaponry.
Painting is not required but as stated in the Grand Tournament book players with fully painted and based armies get 10 victory points.
Horde armies must have some way of distinguishing individual units. This can be color coding, conversions, decals etc.
Forge World models and rules may be used if they are approved models and/or rules for use in GW open events. (Battlescribe & GW 40K App list legal units)
Conversions models are allowed but full proxy and "lets pretend" units and models are not allowed.
Armies must be Battleforged and up to 2000 points and follow all the army construction rules from the current Grand Tournament kit/GW Open rule sets.
Missions MUST be randomly played from the list of missions provided below. (we have copies of this missions available in our store/game center for reference)
Games must be played with the table layout and terrain base/outlines displayed below. (randomly choose your board before each game)
All terrain outlines MUST be played as described on the table-lay out below but structure pieces placed on those bases/outlines should be placed in alternating turns with your opponent until all bases/outlines areas have at least 1 structure placed on each one. Additionally, structures on the base/outline of terrain count as line of sight blocking on the ground floor. (example: Models may shoot and be seen if they are on the base/outline of terrain unless they are behind a structure on the ground floor of that base/outline.)
Players score their best 4 games played during the open season of the league to set their standings for bracket play in play-offs.
Players can only play the same person twice during the open play portion of the league.
Players must score at least 3 games to qualify for the play-off finals brackets.
Play-offs: (Brackets will be generated at the end of July 2022)
Once open season of the league closes we will create brackets based on open play standings.
Top 2 players of open-play get a round 1 bye in the bracket play-offs.
Play-offs will be played with the exact same restrictions as the open play portion of the league.
Play-off games must be played with a 3 hour timer. Games that haven't finished within 3 hours get 1 hour of overtime to complete the current/next battle round.
Games that don't complete 5 battle rounds within the 4 hours must be reported to event staff with the following information: (current scores, both competitors lists, battle round the game ended and remaining models left on the battlefield). We (event staff) will determine the winner at our own discretion based on the information provided.
---
OPEN PLAY RESULTS: (Last Updated 6-28)
Alex W. VP:103 W:0

VS Malark 21-90
VS Malark 82-44

Lee W. VP:121 W: 1

VS Soren 31-97
VS Malark 90-42

Malark VP: 276 W: 2

VS Soren 47-92
VS Alex W. 90-21
VS Lee W. 42-90
VS Soren 36-98
VS Alex W. 44-82
VS Todo 95-9

Shaun VP: 23 WL:0
Soren VP: 381 W: 4

VS Malark 92-47
VS Lee W. 97-31
VS Malark 98-36
VS Shaun 94-13

Todo VP: 9 W: 0
---
TABLE LAYOUTS: (randomly choose before each game)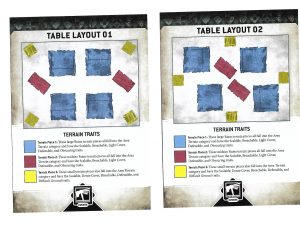 Terrain Base Sizes:
Blue:  12″x12″
Red:  6″x11″
Yellow: 6″x6″
MISSIONS: (randomly choose before each game)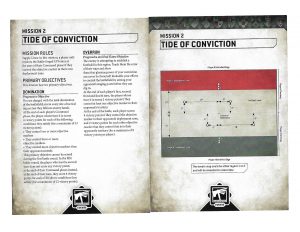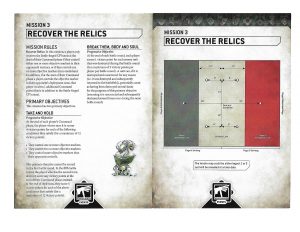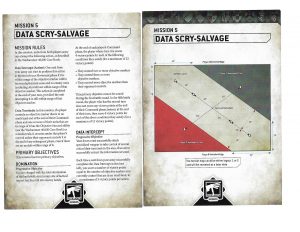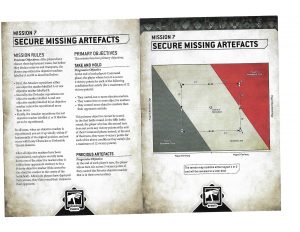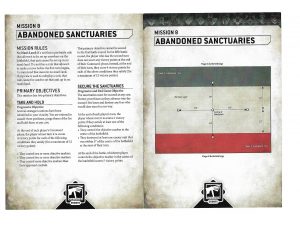 ---
We have a discord! It is available for League Matchmaking and casual games.
Directions to join:
1. Scan the QR code or follow the link HERE.
2. Read and agree to the Code of Conduct for access.
3. Click on the "follow-catagories" Channel.
-React to the protocol droids messages for the Categories you would like to follow. (ex: to follow Warhammer channels, react to the protocol droids messages that says "ROLE MENU: WARHAMMER" with the designated emoji)
-NOTE: To unfollow categories, revoke your reaction and it will revoke the role. Additionally, reacting with emoji's that aren't designated by the role menu will not subscribe you to those channels.
You can get an invite to the Muse Comics Community Discord with the QR code below, in store, or a link HERE.